Gifu International Center (GIC)
GIC is a community based organisation for international exchange. GIC supports the creation of a multicultural society, while contributing to mutual understanding and goodwill between different nations through the rich natural environment, history, culture, and other resources in Gifu Prefecture.
As of the 1st of April 2012 we became a public interest corporation, and are continuing to promote multiculturalism, international exchange and international cooperation.
Foundation
31 March 1989
Representative
Chairperson Kazuhiro Yoshida
Address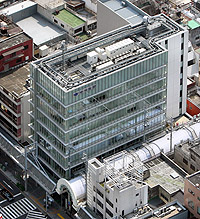 Gifu Chunichi Building 2F, 1-12 Yanagase Dori,
Gifu City, Gifu Prefecture, 500-8875
Telephone: 058-214-7700
Facsimile: 058-263-8067
Email: gic@gic.or.jp
Opening Hours: Sunday to Friday 9.30 am to 6.00 pm
(Excluding the new year period and public holidays)


Organisational Chart of the GIC (number of people)




---

Chairperson (1)

Executive Director (1)

Directors (9)

Auditors (2)





---

Office

 Bureau Chief (also Executive Director) (1)

 Deputy Director-General(1)

 Permanent Staff(2)

 Prefectural Dispatches (2)

 Regional Internationalisation Promotion Officers (3)

 Foreign Resident Support Consultants (3)

Coordinator for International Relations (4)
Related Documents (Japanese only)
| | | |
| --- | --- | --- |
| Articles of incorporation | | 102KB |
| Board members  | | 118KB |
Annual Report

2020

p1-41      

2.34MB

2019

p1-40      

2.37MB

2018

p1-18     

p21-37    

1.19MB

0.20MB


1.02MB

2017

p1-16    

p19-40    

1.00MB

0.17MB

1.40MB

2016
2.21MB
2015
2.84MB
2014
2.48MB
2013
2.63MB
2012
2.53MB
2011
3.84MB
2010
3.84MB
2009
2.79MB
2008
2.24MB
20 year anniversary publication
| | | |
| --- | --- | --- |
| Front Cover | | 339KB |
| Contents | | 311KB |
| Greetings | | 897KB |
| Contributors | | 3.24MB |
| GIC through photos | | 2.62MB |
| Summary of projects | | 4.99MB |
| Resources | | 13.7MB |
| Back page | | 339KB |