Information about COVID-19
1 Notice from Gifu Prefecture (from May 8th)
・Even following the downgrade of COVID-19 to a Category 5 infectious disease, follow cautious infection control measures
...
2 COVID-19 Situation in Gifu Prefecture    
・Cases of COVID-19 in Gifu Prefecture, hospital bed occupancy, and severe cases numbers
. Updated every Friday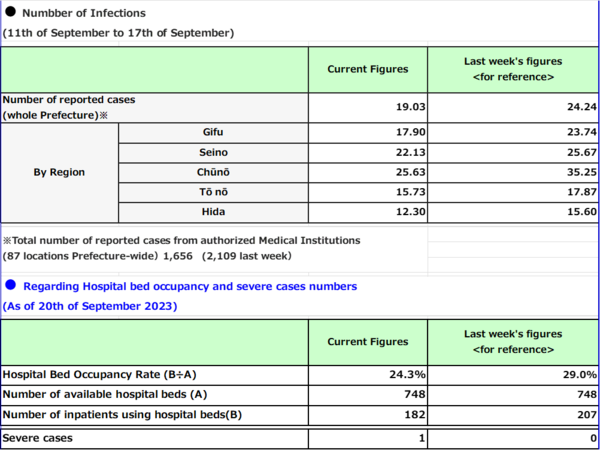 3 List of Support Measures for those affected by COVID-19
・List of Main Support Measures for those Affected by COVID-19, click here
(Updated 12th April 2023)

・For information about support measures offered by the
  National Government, check here.
4 How to Access Consultations & Examinations in the event of symptoms such as a fever, etc.

① First, consult a nearby medical institution (your family physician etc.)
 by telephone.
② If you do not have a family physician or are otherwise unsure who to call,
please consult a Healthcare Center consultation service.
③ Please follow the guidance of the place you consulted (for example,
 being examined there or being introduced to another institution)
 and undergo examination.
...
....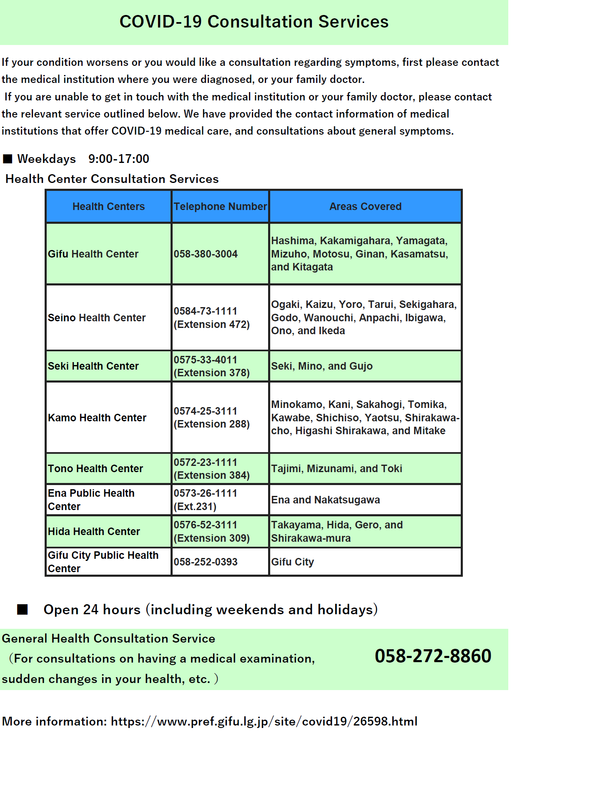 Please call the General Health Consultation Service with somebody who can speak Japanese.
For consultations in English (as well as Chinese, Portuguese, Tagalog, Vietnamese, and easy Japanese), please contact Gifu Prefectural Consultation Center for Foreign Residents :
TEL: 058 - 263 - 8066

...
5 Flyers and Videos
・ Consult us if you're worried!   
・ Consult a Doctor! Click here for information
 (COVID-19 Foreign Language Counselling Center)


・ Office for the Promotion of Infection Control Measures to Prevent the Spread of COVID-19, Cabinet Secretariat (18 languages).
・Hours of Operation of the COVID-19 Infection Foreign Language Consultation Service Extended
...
6 Other Information   

Multilingual websites with information about COVID-19:
・NHK multilingual updates on disasters and COVID-19 (18 languages)
・NHK WORLD (18 languages)
・NHK easy Japanese

・English information on the Ministry of Health, Labour and Welfare website (also available in Chinese)
・Local authority international relations organisations (multilingual information for foreign residents and their supporters)
Please make use of this for consultation services and to provide information for foreign residents and visitors to Japan.
Click here for information on COVID-19 (Japanese only)