Roundup: Information about COVID-19
1 Consultation Centers for COVID-19
Governor's Message (11/12)
COVID-19 Infection Prevention Measures
Joint Emergency Message from Governors of Aichi, Gifu & Mie Prefectures
STOP "COVID-19 Harassment" Declaration


STOP "COVID-19 Harassment" Declaration 

1 What is "COVID-19 Harassment"? 
The new-type coronavirus (COVID-19) is a virus which has not been seen before by humanity and is therefore scary to everybody.
It may be possible that you are unconsciously excluding people or discriminating against others due to fear of this condition, misunderstanding or prejudice.
Has anything similar to any of the following things (COVID-19 Harassment) occurred around you recently?
・Formerly infected persons who have exited hospital being told to "go home" by shops or restaurants.
・Writings or posts online identifying people who have been infected.
・Restaurants suffering losses due to rumours of infections having occurred there.
2 Offer "kindness" and "gratitude".
COVID-19 could potentially infect anybody; we are fighting against the virus, not other people.
Offer "kindness" to protect those who are in the position of having been infected. Furthermore, offer "gratitude" to those medical staff and others who are on the frontlines in healthcare and social life preservation.
By treasuring connections between people like this, we can overcome this difficult situation.
〇  Let's completely eradicate the blaming and discriminatory treatment of patients, those in close-contact with infected persons, medical staff, foreigners, visitors from other regions, families of such persons and particular businesses.
〇  The dissemination of unreliable news concerning infections (fake news) is not something to be tolerated. Easily spread sources such as SNS posts only increase uncertainty.
〇 Let's offer our gratitude anew to those who support our daily lives by working as medical staff, being involved with measures against COVID-19, working to maintain the food supply or working in community safety.
September 1st 2020   Governor of Gifu Prefecture
                     Mayors of Gifu Prefecture's
                     42 Municipalities
Please see Gifu Prefecture's website for Guidelines for Working in a World with COVID-19. (Japanese only)


〇 Full Cooperation of all Foreign Residents   

How to Access Consultations & Examinations in the event of Symptoms such as Fever etc.
① First, consult a nearby medical institution (your family physician etc ) by telephone.
② If you do not have a family physician or are otherwise unsure who to call, please consult one of the "Exam/Consultation Centers".
③ Please follow the guidance of the place you consulted (for example, being examined there or being introduced to another institution) and undergo examination.


※ Testing will be carried out if determined to be necessary by the Physician.
※ Those examination & testing medical  institutions that requested public display are publically displayed on the official Gifu Prefecture website.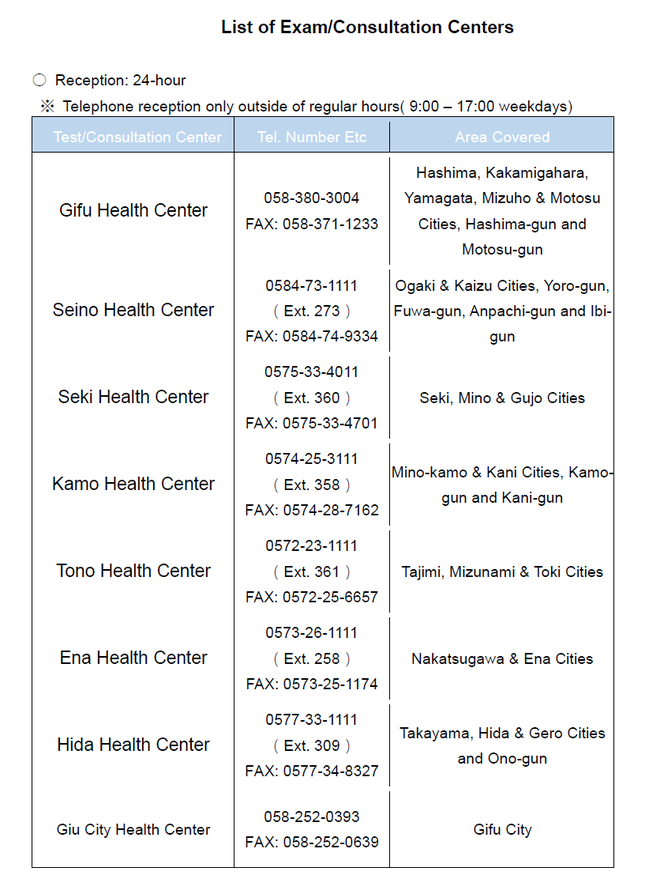 ・If you have continuous cold-like symptoms or a fever, or are experiencing extreme fatigue or difficulty breathing, please contact a Consultation Center before visiting a medical institution. If you have any symptoms and have recently returned from overseas, you should immediately notify a Consultation Center for Returnees and those with Close Contact, regardless of which country you have returned from.

For foreign language consultations, please contact Gifu Prefectural Consultation Center for Foreign Residents:
      058-263-8066
2  COVID-19 Situation within Gifu Prefecture  

875 people have tested positive for COVID-19 in Gifu Prefecture (as of November 19, 2020)

・Cases of COVID-19 within Gifu Prefecture

3 Messages to Prefectural Residents

・Governor's Message (October 29)   

・Governor's Message (September 1) 

・Governor's Message(Aug 7)(PDF)
・Emergency Measures to be Taken Against the "Second Wave State of Emergency"(July 31)(Revised  Aug 7)(PDF)
・Governor's Message (July 21) (PDF) 

・State of Emergency Comprehensive Plan (May 5) 


・Governor's Message (May 5) (PDF) 


・State of Emergency flyer (PDF)

・Critical phase in preventing further spread of COVID-19 flyer (PDF)


・Governor's Message (April 24) (PDF) 
 
・State of Emergency Comprehensive Plan (April 20) (PDF)


・List of establishments requested to suspend operations (PDF) 


・Declaration of State of Emergency (April 10) (PDF) 


・Message from the Governor of Gifu Prefecture (March 27) (PDF) 


Please keep up to date with the latest information regarding the disease and take measures to prevent the spread of infection.

 See PDF for details regarding the following: 

 ■Procedure for consultation, testing and treatment within Gifu Prefecture
 ■Regarding the purchase of everyday commodities:
As COVID-19 spreads, false rumors on social media about shortages of products such as toilet paper and tissues are causing panic-buying in Gifu Prefecture as well. The majority of these products are manufactured in Japan, and we have confirmation that stocks will not run out. We ask that prefectural residents respond calmly to the current situation and not be taken in by false information and unsubstantiated rumors.
 ■Changes at prefectural cultural facilities (partial suspension of services)
 ■Changes at major prefectural sports facilities
 
・COVID-19 symptoms and preventative measures (PDF)

(updated Feb 27)

・Alert regarding COVID-19 in Gifu Prefecture  

・Preventing Outbreaks of the Novel Coronavirus


・Avoid the "Three Cs"! 

・Extended Hours for Foreign Language Consultations regarding COVID-19
4 Other Information   


・Guide to Special Cash Payments (Ministry of Internal Affairs)


・Measures to reduce congestion at the immigration counters in order to prevent the spread of the coronavirus disease COVID-19.(Immigration Services Agency of Japan)

・For Foreigners Working in Companies


・COVID-19 Response & Control Measures Instruction Manual For Accommodation & Lodgings
5 Other information about COVID-19  

・Benefits and Support for COVID-19  (for Employee and Employer)

(guide by mail, translated in 4 languages)    (guide for writing)
・Information and Support regarding COVID-19 via LINE
・Multilingual Emergency Updates from NHK (18 languages)


・NHK WORLD (18 languages)


・English information on the Ministry of Health, Labour and Welfare website


・Guidance on Temporary Loan Emergency Funds
Awareness Posters (English):


・General preventative measures